Campus Ministry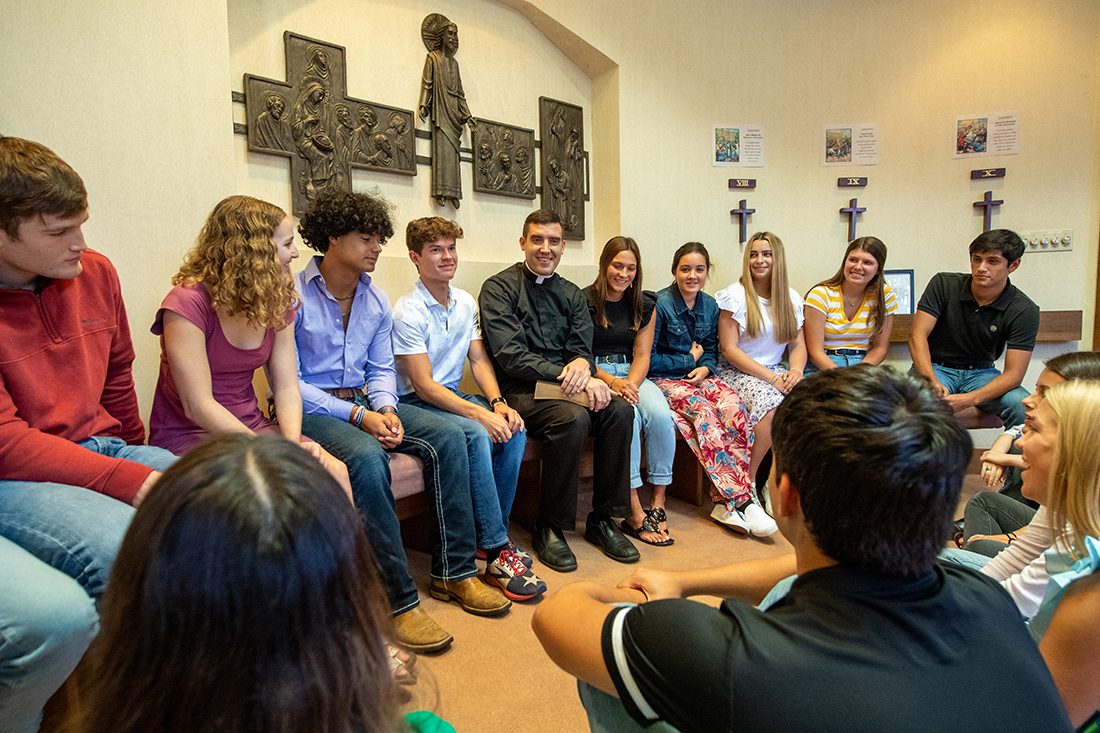 St. Joseph High School is rooted in the Marianist tradition which was established in 1817 and is based on building strong communities of faith.
STJ students have the opportunity to grow in their faith by participating in spiritual retreats, taking theology courses, attending weekly Mass and serving throughout our community.
The STJ Campus Ministry program fosters an environment in which students build Christian community and have time for reflection. Leadership opportunities are available for students to serve on the Campus Ministry Leadership team and in the Music Ministry for weekly Mass.
For more information about the STJ Campus Ministry Program, contact Mrs. Megan Schott or Sr. Clare Underbrink.
Christian Service Program
Blessed William Joseph Chaminade said, "We are all missionaries, and we consider ourselves on a permanent mission." Ours is an "apostolic faith" and as such, St. Joseph High School offers students an opportunity to connect the knowledge and skill they learn in the classroom with how it can be used to help others or transform the conditions in their community. The reflection component of Service Learning encourages students to question why service and transformation are necessary, what changes have to be made, who needs to be served, what motivation moves one to serve, and act upon how adaptations and changes might be practically effected.
The STJ Christian Service Program requires service hours of all grade level students. Students receive ½ credit for the junior year and ½ credit for the senior year.
All service must be approved and verified. Approval comes from the Guidance Office staff and verification is provided by the agency or project service coordinator (recipient). Service requirements may begin during the summer months and are to be completed by the end of the school year, according to a date published by the Guidance Office. Up to 5 hours of service to STJ may be accepted through events such as Open House, Graduation, Night of Honor, etc. Only service to the school done outside of the normal school day will be accepted.
If you have any questions, please contact: Jennifer Carson or Ann Brogger.
Service Hour Requirement by Grade Level
Freshmen: 5 hours
Sophomores:10 hours
Juniors: 25 hours
Seniors: 25 hours