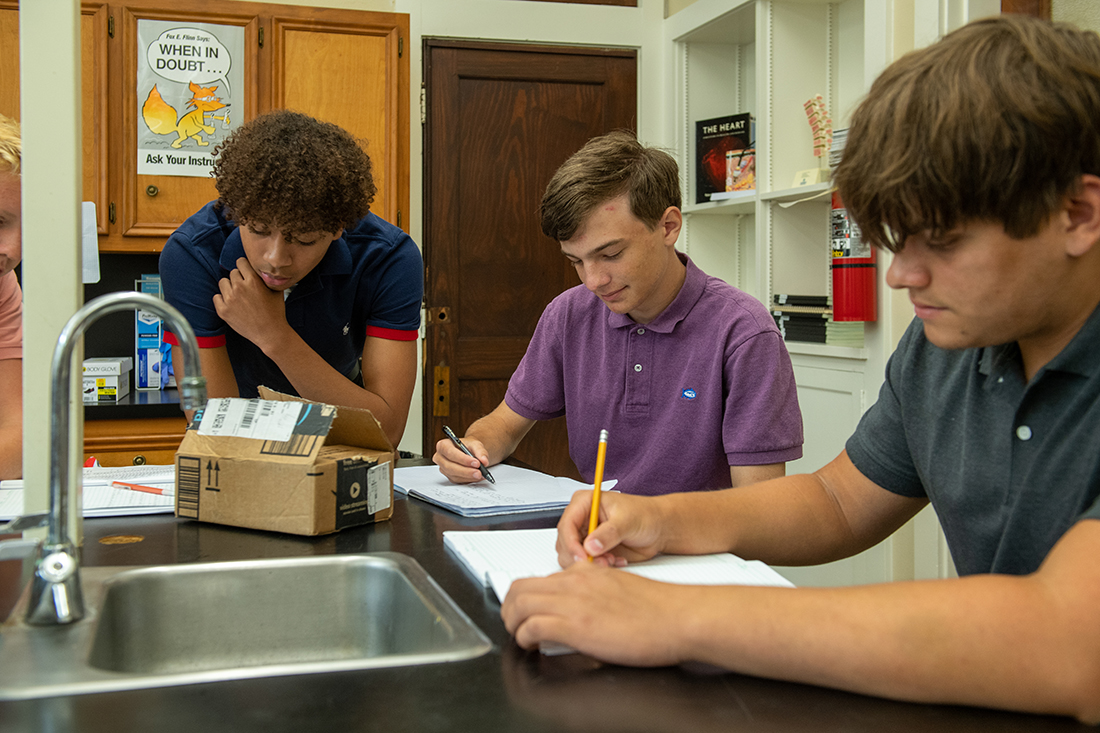 High School electives are typically courses that fall outside of the main core academic subject areas. These courses are not required, but a student chooses to take them. Electives may reflect a student's interests, introduce or improve skills, or be directly related to a future career.
STJ offers the following electives:
Art 1
1 Credit ~ 2 Semesters ~ Grades 9-12
In Art 1, there will be a healthy mixture of drawing, painting, ceramics, mixed media, photography, along with some art history and learning of techniques. Any student is welcomed and encouraged to take Art 1.

Advanced Art
1 Credit ~ 2 Semesters ~ Grades 10-12
Prerequisites – successful completion of Art 1. This class will do all of the above types of art, but will have more freedom of decision making. This class is for the serious student that is interested and wanting to learn more intently about all things art, or a specific medium of art. This class will be graded harder than Art 1, but is very rewarding and very fun too.

Art History
1 Credit ~ 2 Semesters ~ Grades 9-12
Students will examine works of art from diverse cultures and the relationships among those works, and develop an understanding of global artistic traditions. Students will expand their knowledge of history, geography, politics, religion, languages, and literature as they explore the story of people as told through the art they created.

Band
1 Credit ~ 2 Semesters ~ Grades 9-12
The band will provide the diversity of Marching and Concert Band. It serves to enrich and reinforce the basic marching and instrumental music skills through performance with emphasis on success and improvement. Student participation in competitive individual and ensemble events will be required for some activities. Fundamentals of instrument mastery and care are a large part of this course. Students will enhance their instrumental skills through music theory and varying styles of literature. Students who enroll in the band will be expected to attend outside of school time rehearsals and performances.
Choir
1 Credit ~ 2 Semesters ~ Grades 9-12
The choir program is structured to meet students at their musical level by offering training and advanced levels of choral music. Annual concerts in the community, at Christmas and each spring are a few of the performance opportunities offered to the students. Competitive events are also offered – state solo contest, concert and sight-reading contests and festivals.

Digital Art, Animation & Audio Design
1 Credit ~ 2 Semesters ~ Grades 10-12
A fun and practical hands-on course where students draw, animate art and create music using cool computer apps. Students learn technical skills in digital art design, 3D computer animation, audio creation and sound editing techniques. They will use a computer to do independent and collaboration projects.

Discrete Math & Logic
1 Credit ~ 2 Semesters ~ Grades 11-12
Discrete math explores distinct, countable elements and structures present in the world. Instead of analyzing the continuous ideas present in mathematical fields such as algebra and calculus, discrete math examines individual elements and statements to either prove or disprove their truth value. This is a math course that highlights logical thinking over repetitive computation. Algebra 2 completion required as a prerequisite. Algebra 2 concurrent enrollment considered on a case by case basis.

Dual Credit Victoria College Electives
Grades 10-12 ~ Prerequisites – achieve the Texas required scores on either the SAT, ACT or TSI and be in good academic standing at STJ.
Junior or senior status preferred, although younger students may be approved on an individual basis. Students must be self-motivated and diligent in their study habits in order to be successful in a dual credit class, especially those taken online. The student MUST meet with the counselor individually and follow instructions for getting enrolled in a class prior to the deadline given. The current cost for a 3-credit hour class is ~$300 with textbook.

Engineering Your World - Design
1 Credit ~ 2 Semesters ~ Grades 11-12
Engineer Your World uses a curriculum developed by The University of Texas in collaboration with NASA engineers. This course will engage students in authentic engineering design and computing practices in a problem-solving, inquiry-focused, project-based environment. Students discover the engineering design process, make data-driven decisions, and work in multi-level teams to solve complex challenges. They explore mechanical, chemical, civil, electrical, and aerospace engineering through design challenges. Through the work on these projects, students develop engineering habits of mind and skills needed for the 21st century – creativity, critical thinking, problem solving, communication, and collaboration.

Engineering Your World - Computer Science
1 Credit ~ 2 Semesters ~ Grades 11-12
EYW: Engineering Applications of Computer Science is an engineering course that engages students in programming and computational thinking to solve hands-on engineering design challenges. For students with an interest in engineering, the course provides opportunities to design computing-enabled solutions to engineering problems. For students with an interest in learning to code or to apply coding skills, the course's hands-on, human-centered approach motivates the development of programming and other computational thinking skills. For both groups, the course sparks curiosity and provides valuable experiences with computing, design, and problem-solving that will benefit all students, regardless of their future goals.

Family and Consumer Sciences
1 Credit ~ 2 Semesters ~ Grades 11-12
In this elective course, we will be studying home and life skills. Topics will include basic home and car maintenance, job interview practices and personal budgeting skills.

Film Studies
1 Credit ~ 2 Semesters ~ Grades 11-12
This elective course for juniors and seniors will focus on the history of filmmaking, cinema as an art form, the rise of the documentary, and the relationship between film and culture. All work and activities will be done in class. We will watch various genres of film from various time periods. We may watch films that have an R rating, but they would be chosen for their artistic and cultural value, not for any gratuitous or inappropriate reasons.

Foundations of Law
1 Credit ~ 2 Semesters ~ Grades 10-12
This class will examine civil, criminal and administrative law as well as the different roles and professions within each. One semester will focus on civil and administrative law and what that encompasses, while the other semester will be devoted to the criminal justice system.

Fundamentals of Personal Finance
1 Credit ~ 2 Semesters ~ Grades 10-12
Personal Finance is designed to equip students with vital skills and strategies as they take on the responsibility of managing their finances and planning for their futures. The curriculum is authored by Dave Ramsey and correlates with state and national standards. Some of the concepts presented include: managing personal finances to achieve goals, budgeting, avoiding identity theft, personal taxes, compound interest, consumer decision making, terms of loans, amortization, managing and eliminating debt, investing, and building wealth.

Geography
½ credit, 1 semester ~ Grades 11-12
This one semester course is an introduction to the global perspectives, basic concepts and fundamental questions of geography, with a focus on geography, religion, achievements, politics, economics, and social structures.

German 1
1 Credit ~ 2 Semesters ~ Grades 9-12
In this foreign language course, students will be introduced to German culture and learn to read, write, and speak basic German. We will study our rich, local German history and dive into current events.

German 2
1 Credit ~ 2 Semesters ~ Grades 10-12
Introduction to Guitar
½ credit, 1 semester ~ Grades 11-12
In this one semester class, students will be learning the basic fundamental skills needed for learning to play the guitar. Students will work on beginner music theory, finger mechanics, rhythm, melody, chords, and building their ears to excel in music. Students will need to provide their own guitar. Class size is limited.

Journalism
1 Credit ~ 2 Semesters ~ Grades 10-12
This course is designed to provide students with industry-standard journalism skills and the ability to apply those skills to the actual production of the yearbook. Students will learn the Walsworth Online Publishing Design Program, as well as marketing skills through advertising, contacting local businesses for yearbook sponsorships, and promoting the sale of the yearbook.

Mid-Coast Construction Academy
1 Credit ~ 2 Semesters ~ Grades 11-12
Students will attend the Mid Coast Construction Academy from 8-10 am every morning (two class periods). Students can decide to focus on Electrical trades or Plumbing. Tuition paid to Mid Coast by the student is $1100 per semester.
Spanish 3 Honors
1 Credit ~ 2 Semesters ~ Grades 10-12
Spanish 3 is an honors course that continues the student's understanding of and appreciation for the Spanish language. The primary focus is the student's improvement of their listening, reading, speaking and writing skills in Spanish. Students will continue to learn new vocabulary and grammar, but will also further explore the vibrant cultures of Spanish-speaking countries and peoples through studying, analyzing, and discussing various media including film, music and literature. The course is fast-paced and assumes that the student has a firm grasp of most concepts taught in Spanish 1 and Spanish 2.

Spanish 4 AP
1 Credit ~ 2 Semesters ~ Grades 11-12
AP Spanish Language and Culture is equivalent to an intermediate level college course in Spanish. Students cultivate their understanding of Spanish language and culture by applying interpersonal, interpretive, and presentational modes of communication in real-life situations as they explore concepts related to family and communities, personal and public identities, beauty and aesthetics, science and technology, contemporary life, and global challenges.

Spirituality & Ministry
1 Credit ~ 2 Semesters ~ Grades 11-12
This practical course offers a blend of teaching, discussion, experiential exercises, activities, and opportunities for service. We will explore various approaches to spirituality and ministry and ways to animate spiritual, social, and service activities on campus. This course is open to Juniors and Seniors who are interested in being involved with Campus Ministry at STJ.

Starlighter Dance Team
1 Credit ~ 2 Semesters ~ Grades 9-12
The St. Joseph High School Starlighters Dance and Drill Team is a year- round activity beginning in late April with annual tryouts. All girls that have been accepted to attend St. Joseph High School for the following year and have met all pre-requisites are invited to try out. In the summer, the team hosts two Kiddie Camps for children ages 3-14. The team performs at all varsity football games during the fall, as well as some volleyball and basketball games. Immediately after football season, the team begins to prepare for their competition season and the annual spring preview. In addition to all the practice hours, they are very active in many service projects both for school and the community.

Statistics
1 Credit ~ 2 Semesters ~ Grades 11-12
This is an introductory course to the study of statistics and probability and will provide students with the basic concepts of data analysis and statistical computing. Students will learn to interpret the numbers in surveys, election polls, sports, and medical studies. They will use graphs such as histograms, stem plots, time plots, and scatter plots to display data, using numbers such as median, mean, and standard deviation to describe data, evaluate data distribution, and calculate probability of events. Topics include sampling, surveys, experimental design, organizing data, distributions, probability and inference.

Strength & Conditioning
1 Credit ~ 2 Semesters ~ Grades 11-12
Students will learn the relationships between physical activity, physical fitness, group interaction, cooperation, an appreciation for the abilities and limitations of self and others and various health-related outcomes. Through the course, students will gain knowledge and skills needed to develop a lifelong pattern of physical activity. Students will also learn the basics of treating sports related injuries. By the end of the course, students will improve their physical fitness by participating in group fitness classes, weight training, walking, jogging, aquatic fitness, nutrition and other activities.

Theatre Arts
1 Credit ~ 2 Semesters ~ Grades 9-12
The Theatre Arts class is designed to introduce students to theater basics, technical theater, elements of acting, creating a character, producing, directing, and playwriting. Students in the class MUST be able to:
Attend all auditions, even if the desired position is only backstage
If cast in a production, must be able to rehearse for 6 to 8 weeks in the evening, Sunday through Thursday. If not cast in the show, must attend rehearsals two weeks prior to the show to learn how to work the set, etc.
Perform scenes within the classroom, memorizing lines and blocking. Must work collaboratively with others in the class.