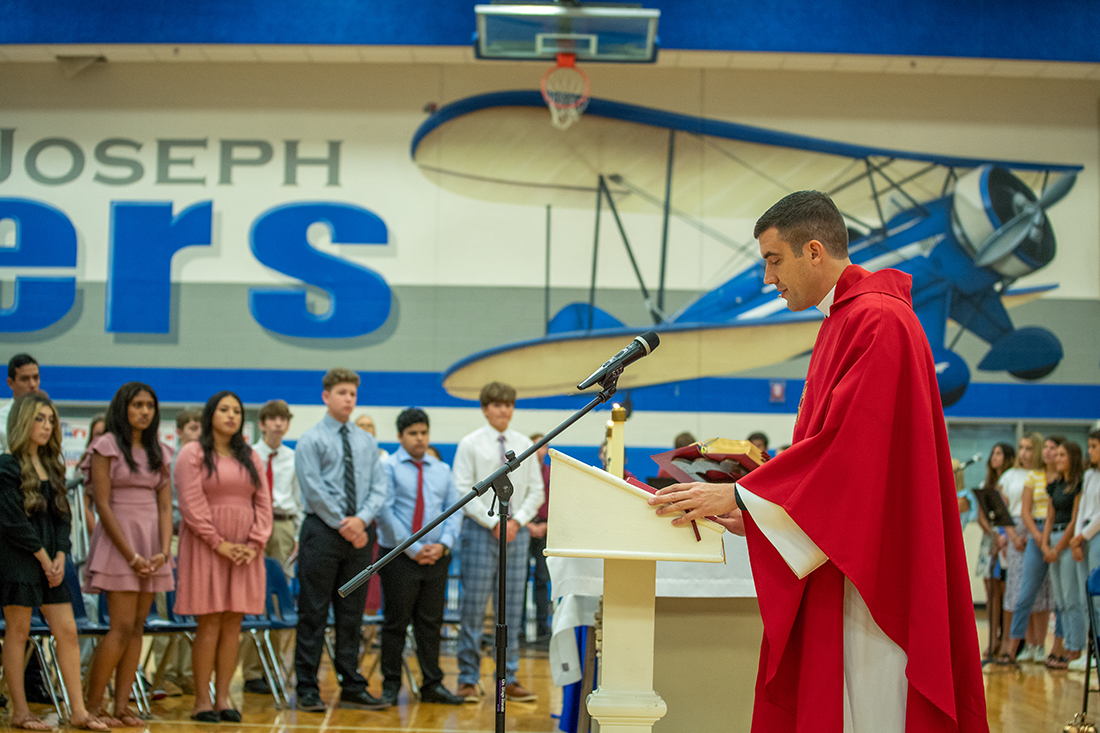 St. Joseph High School Mission
St. Joseph High School, inspired by the life of Saint Joseph, protector and nurturer of the Holy Family, is a Catholic community that cultivates a peaceful, challenging and loving atmosphere fostering spiritual growth and academic excellence for our school family.
Vision
St. Joseph High School is a Catholic school with a Marianist legacy. The heritage of excellence of this school can be traced to its humble beginnings in 1868 when Father Augustine Gardet created a sense of family within the school. The school, subsequently managed by the brothers of the Society of Mary, and the Sisters of the Incarnate Word and Blessed Sacrament, continues to support this and other values and traditions important to the community of Victoria. The family spirit at St. Joseph High School creates a climate that enables and encourages student growth and achievement. As students leave the St. Joseph community, they will be prepared to assume roles of Christian service in the many other communities they will help to form. The Blessed William Joseph Chaminade, founder of the Marianist Order, had a vision for education that encompassed five principle characteristics of educating the whole person. The year 2017 marked the 200th anniversary of the founding of the Society of Mary, and St. Joseph High School remembers its past while building for the future.
The characteristics of a Marianist Education and our vision for St. Joseph High School include the following five elements:
Educating for faith formation

Providing an integral, quality education

Educating in the family spirit

Educating for service, justice and peace

Educating for adaptation and change
Philosophy
We believe the most important outcome for each member of the St. Joseph High School community is a personal relationship with Jesus Christ, which results in the continuous formation of the whole person, the development of God-given talents, and a commitment to a lifetime of service. Together, students, parents, and faculty build a community, and as one, we serve God.
We believe that the qualities our patron Saint Joseph embodied-guardian of Jesus, devoted husband of Mary, model worker, faithful servant, righteous man-inspire the St. Joseph High School family to be a community of faith, hope, and love.

We believe in academic excellence and intellectual challenge for all students.

We believe that it is the responsibility of the entire educating community - parents, faculty, students and collaborators - to prepare our students for life and to be active in the improvement of society according to Gospel principles.

We believe that by embracing a diverse population of individual differences and abilities, we create an environment in which the students can prepare for the immediate challenges of college, the workplace, and a life-long commitment to faith, education, leadership and service in a multicultural society.

We believe in the educational principles and learning experiences that extend beyond the classroom in order to foster the spiritual, moral, intellectual, emotional, and physical growth of the whole person to his or her fullest potential.