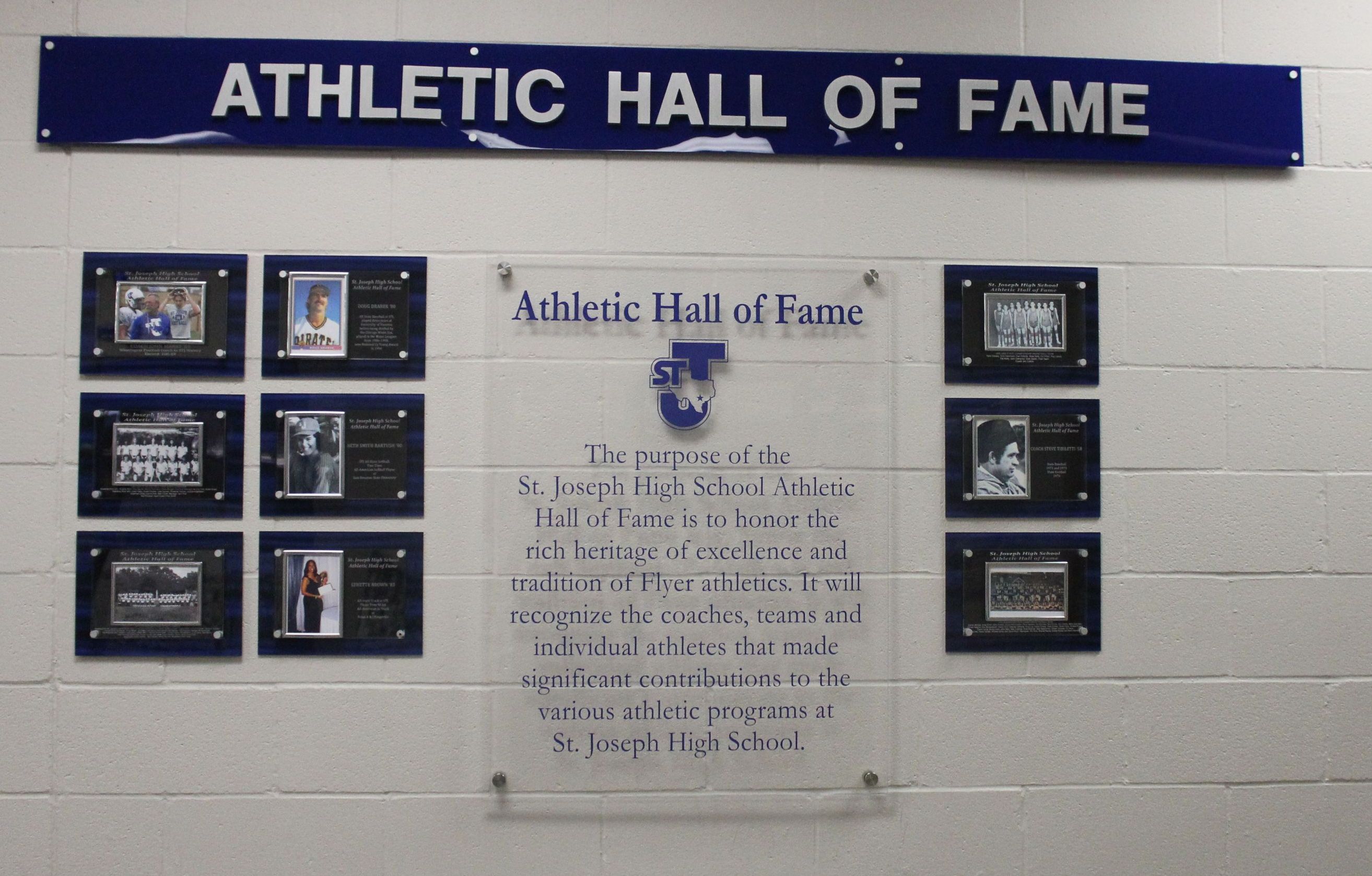 The St. Joseph High School Athletic Hall of Fame will honor the rich heritage of excellence and tradition of Flyer athletics. Coaches, teams and individual athletes that have made significant contributions to the various athletic programs at St. Joseph High School will be featured on the Athletic Hall of Fame wall located in the lobby of the Tom O'Connor, Jr. Athletic Center.
Nominees must have exemplified the highest standards of sportsmanship, ethical conduct and character expected of a St. Joseph High School Flyer. A person may be nominated living or posthumously and there will be three categories to consider for selection into the Athletic Hall of Fame.
An individual who distinguished himself or herself as an athlete while at St. Joseph may be submitted as a nominee as well as an entire team who worked together and contributed to the success of their athletic programs. Achievements may include individual and team records and awards, along with any post high school athletic accomplishments. Individuals and teams will be considered eligible 10 years after their graduation or 10 years after the season for which they are nominated. A coach who had proven leadership, mentorship to their players and team successes may also be nominated after 5 years of leaving the position for which they are nominated.
Everyone is encouraged to fill out a nomination form.
Click here to view the Athletic Hall of Fame By-Laws
Click here for an Athletic Hall of Fame Nomination Form
Nomination forms are also available at the school. Nominations are due by August 15.
2016 Athletic Hall of Fame Inductees
Beth Smith Bartush '80
Lynette Brown '83
Doug Drabek '80
Coach Steve Tibiletti '58
1955-1956 State Championship Basketball Team
1976-1977 State Championship Football Team
2018 Athletic Hall of Fame Inductees
Click here for more information on 2018 Inductees
John Mares '69
1965 State Champion Flyer Football Team
1980 State Champion Lady Flyer Softball Team